Small Businesses Remain Optimistic in 2018
A recent survey by Wells Fargo and Gallup found that optimism among small business owners is at an 11-year high.  The survey, which was conducted between January 3 – 9 of this year showed a significant increase in the "future expectations" score which is an indication of how well business owners expect their companies to perform over the next 12 months.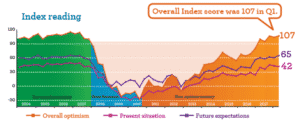 Wells Fargo Managing Director and Senior Economist Mark Vitner said, "The economy ended 2017 on a high note, and many small business owners believe that strong momentum will carry over into 2018."  He went on to say, "We are encouraged by the breadth of the improvement this past year, particularly in quantifiable areas like sales and overall finances. The more broad-based the gains, the more likely those gains will be longer lasting."
The Wells Fargo/Gallup Small Business Index which questioned 603 business owners, was conducted two weeks after Congress passed the new tax law.
Major Takeaways from the Small Business Survey
Fifty-two percent of business owners who participated in the quarterly survey said that their businesses had seen increases in revenue over the previous 12 months and 66% said they expect to see continued increases in the coming 12 months.
More than three-quarters of participants also said they expect their cash flow will be "very good or somewhat good" during the coming year, and 38% said they expect to increase their capital spending over the next 12 months.
Nearly half (46%) of business owners surveyed said they expect that credit will be "very easy or somewhat easy" to obtain and one third expect to hire more workers.
Small Business Concerns for 2018
When asked what challenges their businesses face, 16% said attracting new customers and finding new business top their list.  Other concerns included hiring and retaining staff (13%), cash flow (10%), taxes (10%) and government regulations (7%).
Wells Fargo's head of Customer Segments Andy Rowe said, "Our latest survey tells us that small business owners feel better about the economy and the future of their businesses.  We are encouraged to see more business owners forecasting strong revenues, healthy cash flows, and increased capital spending over the next 12 months. These trends tell us that small business owners are more positive about the economy, and that optimism is translating into investment in the future of their businesses right now."
I hope you found this article helpful.  Visit https://wellsfargoworks.com/insights/press-release/small-business-optimism-hits-11-year-high to read more details about the Wells Fargo/Gallup Small Business Index Survey.  If cash flow is a concern for your small business, accounts receivable factoring may be the solution.  Call American Receivable at 1-800-297-6652 to learn more or click here to learn how factoring works.