Buying Office Equipment – Things to Consider
Are you considering buying office equipment in 2018?  As a small business owner, you know that equipment updates are essential if you're to remain competitive.  But investing in fixed assets can also create cash flow problems if the purchase is not funded and timed correctly.  Here are some tips to help you properly time and finance your new office equipment purchases.
Prioritize Your Office Equipment Needs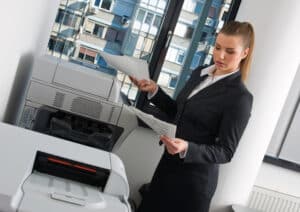 Buying a new or used piece of business equipment can be exciting and that excitement can cloud your judgment.  Before you even begin shopping, you should ask yourself (and your employees) the following questions:
Is the equipment purchase really necessary at this time?
Will purchasing the equipment prevent you from making other investments, or meeting your daily operating expenses?
Will the new equipment increase productivity or reduce overall expenses?
Are the tax advantages to purchasing the equipment?
If you find that the new equipment will really benefit your business, you should explore a variety of funding options including taking out a bank loan or line of credit, and invoice factoring.
Buying New or Used Office Equipment
For small businesses on a budget, there may be times when buying used makes more sense than paying full price for new equipment.  Depending on the age and condition, you could save as much as 50% by purchasing used equipment so it's a great way to reduce capital expenditures.  Just make sure you thoroughly inspect the equipment to make sure it's in good working condition, and keep in mind that in most cases you won't have the peace of mind that a manufacturer's warranty can give you.
Consider Outsourcing Instead of Buying Office Equipment
Before purchasing new equipment, consider how much use you'll actually get out of it.  While it might be convenient to own an expensive, laser office printer, is it really necessary for your day-to-day needs?  If not, it might make more sense to lease a printer or outsource big printing jobs to a reputable commercial printing company.  In short, you should avoid paying for equipment that exceeds your actual needs.
Make Sure You Have Room for the New Equipment
When purchasing large pieces of equipment, make sure you have ample space to accommodate it.  The best way to avoid overcrowding your office or warehouse is by making accurate measurements of your available space to determine if you have enough room for the new equipment.
The best way to do this is by creating an accurate, scale drawing of your space.  A simple pencil drawing with measurement annotations will do the trick.  For greater precision, you might want to use one of the many free design tools available online.  Check out this article for a list of options.
I hope you found this information helpful.  To learn how our flexible factoring solutions can help your business grow, call American Receivable at 1-800-297-6652 or click here for a free quote.