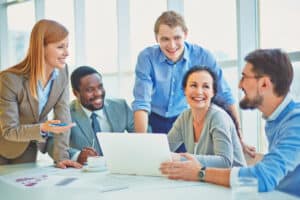 Use Your Business Corporate Culture to Improve Employee Retention
In today's business world, it can be challenging to attract talented and qualified employees. Even more difficult is employee retention: keeping team members happy, productive and engaged. When employees are not happy with the company work environment, and other jobs are available, they are likely to leave for greener pastures. Losing employees costs a small business time and affects cash flow, so finding ways to retain qualified workers is preferable to turnover. This article discusses how a positive corporate culture can help a small business retain employees and keep the team motivated.
What is Corporate Culture?
Corporate culture encapsulates the rules, values and behaviors that outline how employees behave and are expected to act in a workplace. For example, is the culture in your company to work overtime every day or have a work-life balance? How do managers approach conflict and disputes? Do employees work independently or collaboratively? Are upper-level employees approachable by all? Do you offer fair benefits or any extra perks? What is the expected attire? Does your business have employee retention programs in place?
Positive Corporate Culture = Employee Retention
Positive corporate cultures are sought after by talent. You will likely achieve higher employee retention if your business reflects the workplace values of your employees. It is important that the behaviors, rules and values on paper are reflected in actual practice. If you say that your culture is to encourage creativity through down time and respite, but then you don't approve any requested vacation time, you are sending the wrong message and can alienate employees. It is best to lead by example and display the values and behaviors you want to be reflected as part of your culture.
A positive corporate culture will have employees feeling that they are an asset to the company. They will feel respected, cared about, and an important part of the team. The office atmosphere will be energized and encouraging. Happier employees will work harder and tend to be more productive, which is always good for the growth, profits and cash flow of a business.
Negative Corporate Culture = Losing Employees
If your small business has a negative corporate culture, you risk losing talented workers who want to seek greater job satisfaction, ultimately hurting your bottom line and cash flow. If you are losing a lot of employees, or you see that employees are not working well together, it is an indication that your corporate culture needs some reviewing. What behaviors do you want to see and how can they be achieved? For example, does management dictate a "yes, sir/yes, ma'am" attitude or do you want team members to be able to voice opinions and concerns? Be honest with your corporate culture's faults and brainstorm ways to improve morale.
Employee retention starts even before the hiring process. How is your company thought of in the industry? Does your business's reputation reflect having a positive corporate culture or do you have bad press?  Are your company values conveyed to the public accurately? Do you have a lot of negative or questionable reviews? In other words, are highly-qualified employees going to apply for open positions considering your reputation?
During the hiring process, it is important to make sure candidates will fit in with your corporate culture and be productive and satisfied once they encounter the day to day routines and behaviors. Ask pointed questions during the interview and make sure you have a match. This will save having to go through the hiring process again later, which will cost your company money and reduce its cash flow.
Job Satisfaction Improves Bottom Line
In today's society, employees are putting value on quality of life in both personal lifestyle and in the workplace. A high salary is no longer the greatest incentive when choosing an employer. Employees are looking for companies that share their values, one that will bring job satisfaction, and offer a corporate culture that makes the workday something to look forward to. While most small businesses with smaller cash flow can't afford catered lunches and weekly massages, there are still a lot of ways your company culture can be a positive one. This will keep your employees happy and productive, and keep you happy by helping your bottom line. Here are a few ideas:
20 Low-Cost Employee Retention Tactics to Try
Give each employee positive feedback on an ongoing basis
Offer a relaxed dress code and special dress-up theme days
Provide continual training for workers, allowing them the opportunity to grow
Determine which employees are looking for more to do, and give them added responsibility periodically
Give your staff extra creative time to brainstorm ideas or work on side projects that interest them
Express your appreciation regularly, even for the little things
Get to know employees better and schedule one-on-one time with them
Have open-ended conversations with employees, welcoming them to discuss what's on their mind
Evaluate how your work schedule promotes work-life balance
Avoid or minimize sudden changes in the workplace
Arrange for team lunches, dinners and/or social outings
Ask your employees to offer feedback on important projects
Keep the workplace organized, uncluttered, and low-risk from danger or accidents
Empower employees by providing tools to complete their work faster or more effectively
Allow employees to decorate their own work spaces and/or have an office decorating contest
Provide adequate and regular rest periods throughout the day for your employees
Create a comfortable relaxation zone or separate room where staff can re-energize
Arrange for employee discounts at related entities
Offer telecommuting "work from home" day options
Encourage your team to thank one another and/or create a peer-to-peer recognition program
American Receivable, with offices in Dallas and Austin, can improve your bottom line and cash flow. We are ranked No. 1 nationally among small-business factoring companies and have a high satisfaction with our long-time staff. We provide small businesses with the financial resources and accounts receivable management strategies they need to improve cash flow, grow, increase inventory, make payroll on time, and effectively compete in the marketplace. American Receivable, helping small businesses since 1979, is the best choice for factoring and accounts receivable management. Call us for a FREE quote today at 1-800-297-6652, or complete the quick quote form below.
A Fresh Start:
 

Keeping Your Employees Healthy and More Productive

A tidy and sanitary office is crucial for quality work.  Distraction lowers productivity, even on a subconscious level.  Studies have also shown that business offices are a breeding ground for germs causing illness, which takes employees away from work, lowering productivity and work quality.

A clean desk has shown to increase productivity.  Stacks of papers and files and other items cause clutter, which also clutters your mind.  It is recommended that after a task is completed, it is filed in the proper place.  How many times have you thought, "where is that file, or paper"? It is estimated that workers spend over 4 hours a week looking for misplaced items and correcting mistakes. If someone else needs the file, it will be easily found if it is returned to the proper place.  Productivity goes down and anxiety goes up when you are not able to locate what you need to complete the next task.  Filing things and putting supplies and other items away will create a more open workspace which will result in less mistakes being made.  Mistakes lessen productivity requiring a task to be done over.  A clean work area, uncluttered the mind as well and also makes things easily accessible.

The bottom line is that a healthy and productive workplace is not just keeping things in their place and immediately replacing files and other important papers. it is important to keep things like your computer, keyboard and other equipment clean and free of clutter.  10 sticky notes on your computer is cluttered are likely to fall to the floor.  Having too many personal items on your desk is also detrimental.  Put one personal item and find a shelf for other items you feel you need in your office. Employers should also require cleaning of electronic equipment, not only for health reasons, but for the maintenance and longevity of the equipment.  A printer full of dust is going to break down.  A keyboard with grime and bacteria will also stop working and will grow bacteria causing illness.  You touch multiple files and papers, pens and other things in an office. Imagine the germs lurking from everyone that has touched these things. Keep hand sanitizer in the office as well.  Healthy and organized employees are always more productive.

A sanitary and clear workspace makes for a clear mind and healthy body that can focus on tasks at hand.  If you have to go through stacks of paper looking for that one thing you cannot find, you will become anxious and frustrated, likely ending in a mistake. And, if there is bacteria on your desk and computer and throughout the office, illness is eminent, which will impede productivity.

Take some time before the new year and get everyone to spend some time cleaning and organizing the office.  It will make for a fresh, productive start to the new year.

Spend some time at the end of the year discussing this with your employees and involve them in cleaning the office.  Cleaning companies do basics and will not make your office sanitary.   It will make for a fresh, more productive office and healthy employees who are at work and able to do their job.   Start the new year off right!