Characteristics of Effective Teams to Build Your Business Success
We don't work in a bubble. Every day we are interacting with clients, vendors, co-workers, and other business contacts. One of the most important relationships we develop in a small business environment is the team of professionals working closely together to secure the success of the business. The strength of this team and how well they work together is vital to staying competitive, productive and profitable. In this article, we'll discuss the important characteristics of effective teams to improve your business.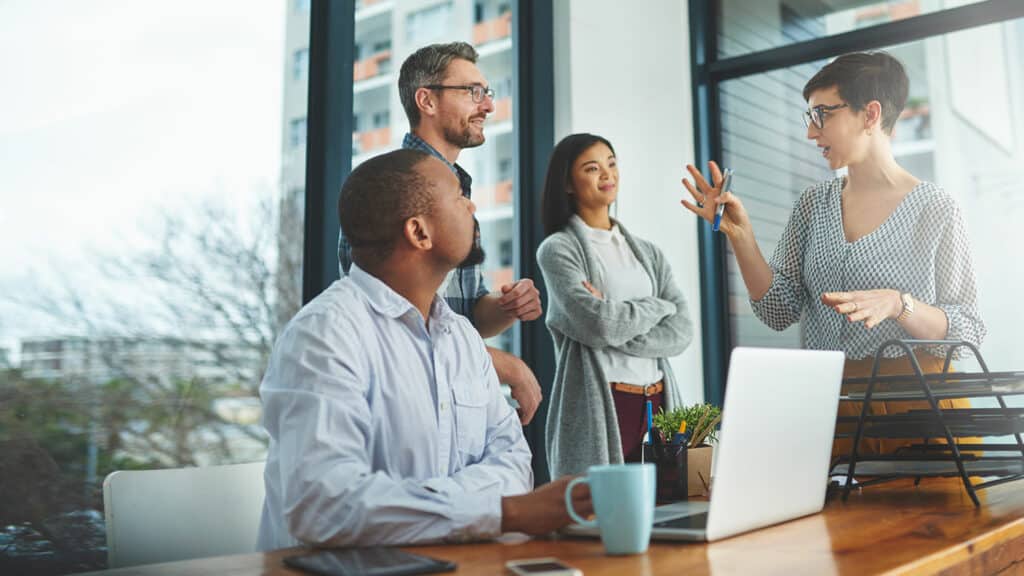 Commitment to a Common Goal
Teams are created to efficiently and effectively complete a goal. The goal must be defined. It can be increasing sales for your company, getting a large order shipped out, or planning the annual client appreciation event. It is important that the goal has a clear direction, and each member has a good understanding of what the desired outcome looks like. The goal of the team is greater than individual interests. This is the first step towards coming together as a unit and successfully achieving the goal.
Participation
In effective teams, each person of the team needs to have a clear role and must be considered essential to the team's success. All members need to understand they are a part of the solution and must be motivated to put in their fair share of the work.
Open Communication and Collaboration
The more comfortable team members feel with other members, the more they will be able to communicate openly with each other. Building a team culture that allows for open, frequent, and face-to-face communication will encourage team members to collaborate and freely exchange ideas and information.
It is important to mention that good communication does not just mean sharing your ideas and thoughts in a clear way, but also closely listening to and respecting the ideas and thoughts of other team members. In effective teams, if something is not clear, members ask clarifying questions.
Opinions, Risks, and Change
Differing opinions and ideas help spark creativity. By encouraging diverse opinions, there is an opportunity to have more ideas to evaluate, thus working towards the best solution to achieving your goal. Brainstorming is a safe, tried and true tool for building on each other's ideas, allowing the team to discard the less valuable ideas, and elaborate on the stronger ideas. This also encourages team members to take risks and suggest possible changes that are in the team's best interest.
Defined Roles by a Strong Leader
Each team member needs a defined role within the team.  A strong leader is important to effectively motivate the team, give feedback, and, if applicable, select the team members and distribute their roles. A good leader will also be a role model for good, open communication. Members should be placed in roles that take full advantage of their strengths and abilities. For example, a detail-oriented person would be great for keeping the team on track, but a creative artist may not be the best choice for handling budgets and metrics.
Responsibility
While individuals are responsible for completing their assigned tasks in a timely and efficient way, teams should not blame individuals for mistakes. Both failures and successes are shared by the team as a whole. However, it is appreciated when individuals are recognized for special contributions made to the success of the team.
Trust, Mutual Respect
Team members must feel safe communicating with each other. Members cannot feel judged by other team members. There needs to be a culture of mutual respect of abilities, and trust that members are not talking behind each other's backs. Team members also need to trust that individual parts of the team are handling their responsibilities and tasks. Trust and mutual respect can be built through team building exercises and experiences.
Put American Receivable on Your Team
In conclusion, effective teams will collaborate and work together as a strong, solid unit. By reviewing the characteristics outlined above, you can build a team that will take your small business to new levels. And if your accounting team needs help with accounts receivable or cash flow, consider adding American Receivable to your team.
American Receivable is ranked No. 1 nationally among small-business factoring companies. Since 1979, we have provided small businesses with the financial resources and accounts receivable management strategies to grow, increase inventory, make payroll on time, and effectively compete in the marketplace. With American Receivable on your team, get funding within as little as 24 hours in some cases. Call us for a FREE quote today at 1-800-297-6652, or complete this quick quote form.
By Jack Stieber –  President  – American Receivable
Understanding Business Accounts Receivable for Small Businesses
Business accounts receivable is an important accounting term to understand if you are going to have a successful and profitable business. We believe it's so important that we made it a part of our company name—American Receivable. Simply put, business accounts receivable are the monies customers owe to a business for products and/or services provided. The key term is "owe". Business accounts receivable are an asset to your company, but they don't count as actual cash until the invoice is verifiably paid. Some companies fail because they have a lot of accounts receivable on record, but they don't follow up well enough on actually getting invoices paid and money in the bank quickly.
Have a Strong, Reliable System for Business Accounts Receivable
Without cash flow and money in an account, a business can't sustain itself. Uncollected payments tie up money that can be used for growth, accounts payable, new orders, etc. Therefore, it is essential that a business has a solid system in place for invoicing, monitoring and collecting on accounts receivable in a timely manner. You are not in the business of giving goods and services for free, so allocating time and resources towards administrating your accounts receivable is good business practice.
To Give Credit or Not to Give Credit?
In retail, transactions are paid for at the time of purchase. However, in many business to business transactions, there are often terms for payment. This is the same as giving your clients credit, as they are receiving goods and services before paying for them. You may require a credit application to check on the prospective client's payment history before allowing a longer term for their invoices. For example, your company may require payment in only 10 days after the date of the invoice before considering the payment late. For some companies, 30-day terms are the standard, especially when the client has a clean payment history. Whatever you choose, it is important to follow up with clients delinquent on their payment. If a client is consistently late, it may be worth requiring a deposit or shortening the payment terms for future transactions.
Be Diligent with Business Accounts Receivable
There is really no excuse for not being diligent about your business accounts receivable. Thanks to popular computer accounting software, producing business account receivables reports, and keeping track of aging accounts is simple. You just need to make sure to schedule it and generate the needed reports so that you can contact the delinquent clients and remind them that payment is overdue. The longer you let nonpayment slide, the less likely you are to collect on it, and so early intervention can prevent later aggravation.
Still Not Getting Paid?
What do you do when a client doesn't pay and your company needs the cash? First of all, continue to reach out to the client and try to collect on the delinquent account. Another option is to take legal action, but this can be expensive—sometimes more than the amount you are owed. You can also consider factoring. American Receivable, the go-to source for factoring in Texas and throughout the nation, can help improve your business accounts receivable and help you make your business a success!
Here are some final tips to manage your business accounts receivable:
• Communicate with your clients about their invoice and outstanding balances. This includes making sure you have updated, accurate contact information
• Maintain diligence by having a detailed and scheduled procedure in place for invoicing, monitoring, and collecting payments
• Follow up on sent invoices in a timely manner
• Develop a regular schedule of follow-ups and how the communication will be sent
• Keep accurate records and documentation
Consider Factoring
Does your business accounts receivable need a boost? Are you thinking about factoring for your company help you get the cash your business needs? With offices in Dallas and Austin, American Receivable is ranked No. 1 nationally among small-business factoring companies. Since 1979, we have provided small businesses with the financial resources and business accounts receivable management strategies they need to grow, increase inventory, make payroll on time, and effectively compete in the marketplace. We can provide funding within as little as 24 hours in some cases. Call us for a FREE quote today at 1-800-297-6652, or complete this quick quote form.
By Jack Stieber –  President  – American Receivable
Business Tax Deductions You Should Consider
The poet Robert Burns once said, "There is no such uncertainty as a sure thing."
That sentiment rings true for small businesses throughout the U.S. as the dust of the 2016 presidential election settles and tax season approaches.
During the campaign, President Trump focused on growing the economy by leveling the playing field, reducing regulations, repealing the Affordable Care Act and lowering taxes for businesses.  While the rhetoric was music to the ears of many small business owners, others pointed to Trump's lack of specifics as the reason for caution.
In a January 18th USA Today article, writer Rhonda Abrams pointed out that Trump's plan to reduce the corporate tax rate would likely only apply to "C" corporations.  And she points out that "eliminating loopholes" could translate to a loss of deductions that many small business owners routinely take – like carrying forward business losses, claiming the use of your car or truck for business use and incentives for investors to fund new ventures.
The truth is it will take months, if not years, and the cooperation of Congress for such sweeping changes to take place.
In the meantime, here are 5 business tax deductions you should consider.
Tax Deductions for Interest Paid on Business Loans
You may deduct interest on small business loans, but keep in mind that the deduction can only be taken if the funds are used for business purposes.  Although interest paid on loans from friends and relatives is deductible, the IRS tends to look at these with a greater scrutiny.  Attorney and author Stephen Fishman warns, "You need to carefully document these transactions. Treat the loan like any other business loan: Sign a promissory note, pay a reasonable rate of interest, and follow a repayment schedule. Keep your canceled loan payment checks to prove you really paid the interest."
In addition to conventional bank loans, factoring fees are also generally considered a business expense and are therefore deductible.  You should discuss your particular situation with the factoring company and your tax professional to make sure your situation conforms with IRS requirements.
Deductions for Business Travel
You should deduct your business travel costs and save your airline miles for personal use.  In a recent Investopedia article, writer Marc Prosser points out that "Business owners often rack up points on their miles card and figure that they can reduce business travel costs by using their miles for business flights. However, if they also fly fairly frequently for personal trips, this is a mistake. Business travel costs are fully deductible as a business expense; personal travel costs are obviously not."
Deductions for Maintenance and Repairs
Tax deductions are available for the cost of routine maintenance and repairs to the business property.  However, improvements that add to your property's value must be capitalized and depreciated.  Tax Consultant William Perez uses the example of changing the oil in a car.  According to Perez, "Changing the oil keeps the car operating normally and efficiently, but it doesn't substantially prolong the useful life of the car. Replacing the transmission or engine, however, would substantially prolong the useful life of the car, and so this would be more like a repair that needs to be capitalized."
Tax Deductions for Wages Paid to Independent Contractors
If your business employs independent contractors to meet your labor needs, you may deduct that cost.  Just be sure to provide any contractor who receives $600 or more in wages with Form 1099-MISC.
You should also be sure that independent contractors you employ meet the requirements outlined by the IRS.  Claiming an employee as an independent contractor can have a number of costly legal consequences for your business, including:
Reimbursement of wages you should've paid them under the Fair Labor Standards Act, including overtime and minimum wage
Payment of back taxes and penalties for federal and state income taxes, Social Security, Medicare, and unemployment
Payment of workers' compensation benefits to any employee misclassified as an independent contractor
Providing employee benefits, including health insurance, retirement, etc.
Tax Deductions for Employee Education and Tuition
Employee education assistance is deductible provided you set up a qualified educational assistance program that adheres to IRS regulations.  The IRS currently allows businesses to deduct up to $5,250 for tuition reimbursement for employees.
In a recent article published on www.thebalance.com, writer Jean Murray points out, "Independent contractors working for your business can be treated as employees for the purpose of this benefit. That means they may also exclude allowable education to benefit expense payments from income. Their income would be reported on Form 1099-MISC."
Before claiming any of these deductions, you should refer to IRS publications and discuss them with your tax professional or employee benefits consultant.
Obviously, this article covered just a handful of the deductions small businesses can take.  Are there others that you think our readers would find helpful?  If so, please share them by posting a comment below.
By Jack Stieber –  President  – American Receivable