The Cash Flow Struggle
Cash flow is essential to any growing business.  When cash flow slows down, it can cause the business to drop revenues or completely fail.  In order to keep from failing, business owners have to look at their business practices and figure out what is causing the cash deficit.  There are many possible reasons for the shortage of cash flow as well as simple ways to eliminate the problem.
New streams of revenue may be a possible answer. Can you diversify your business to include other services that would bring in regular cash flow?  Adding the right services to your current business can help fill in the cash flow gaps.
Don't overestimate when forecasting cash flow.  Bee conservative and consider worst-case scenarios when forecasting for the future.  Planning ahead will help your business stay afloat and reduce risks in the event of an unexpected cash flow shortage.  Consider prior years when forecasting your upcoming year.   Late payments from customers or large unexpected business expenses can lead a business into a cash flow crisis.
Collecting from customers can be a constant struggle.  Look at your current collection practices and look for ways to make them more efficient and effective. Implementing software that can flag overdue accounts and send reminders to customers should be utilized.  Follow-up phone calls or emails may be required, however, the software will give you the assurance that reminders are being sent and your accounting division is aware of any problem accounts.
Evaluate the time management and resources of your employees.  Are they using time effectively?  Are your employees using resources too quickly that could be used more conservatively? Are they spending too much time in one area and too little time on something more crucial like collections or verifications?  Efficiency in your business will be a helpful tool for cash flow management. 
Business expenses and operating costs.  Know how much revenue is being spent on office supplies and other expenses.  Businesses often order supplies that are not really essential for daily operations that could be purchased on an as-needed basis. Look at your supplies and order only what is necessary.  A smart business owner will always be on top of revenue coming in and going out.
Cash flow is the most important asset for a business.  Make sure your business is utilizing your cash effectively for growth and longevity.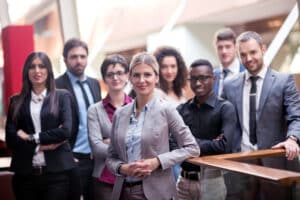 Building A Customer Focused Business
What is the #1 asset in your business? Your customers, of course! They provide the revenue that keeps your business afloat and enables growth. Without your customers, you would not be in business.
Who does not like to feel familiar and appreciated? People in general like to be acknowledged and made to feel that they matter. The same goes for business. Getting to know your customers personally and showing interest in their business will make them more likely to stay with you. Personal attention is crucial and will result in referrals to other prospective customers. People who know your business and hold you in high regard are the best referrals.
Building a customer focused business is easy.  Focus on the customer, first.
1.  Get acquainted with your customer and learn about their business.  Understand their needs and show them how you can offer support.
2.  Be accessible.  When customers call, they want immediate answers  A customer focused 
business will have someone answering the phone and directing them to the appropriate 
person to solve any issues or  handle other needs.  Lack of accessibility will result in the     
customer moving their business to your competitors.          
3.  Listen and understand questions and concerns.  Show them you are interested in them and 
their business and finding solutions for their issues.
4.  Do them a favor.  Customers  will often call with a critical request that may be 
against normal protocol. Don't make it a habit, but accommodate them when the request is feasible. 
Be clear that this is not usually something you do, but that you want to help 
 and will make an exception this time. Accommodating them
 will show them that you really are focused on their needs.
Remember, the success of your business is a result of your customer's success.
The Value of Business to Business Relationships
American Receivable Corporation considers it's business relationships within the financial community to be one of its greatest assets. American Receivable's partnerships within the banking community and with professional CPA's spans over 39 years These relationships have been mutually beneficial to us,  the bankers and CPAs as well as our factoring clients.
No matter what type of business, it is important to have good financial advisors.  Commercial lenders help clients manage accounts within the bank and review projected capital requirements.   A well-respected CPA will help manage taxes, cash flow, and other financial challenges. 
These relationships give American Receivable the ability to match clients with the right financial professionals. Commercial lenders often send us clients that do not meet the federal banking criteria for business loans. When this happens, the lender will contact American Receivable Corporation.  We work with the client to find the best solution for their cash flow needs and their specific business.  In turn, we recommend they keep their accounts with the lender that sent them to us.  At the point they qualify for a traditional business loan and wish to go that route, they already have a lender familiar with their business and their challenges.  
CPA's managing business accounts often call us when they see cash flow needs for their client.  We work closely with the CPA and the client to ensure the best solution for their specific needs. The CPA continues to handle accounting for the growing business and catch any cash related problems early. 
American Receivable is proud of our long term relationships in the industry. These relationships allow us to work together for our clients.  We consider our clients based on the credibility of their customers, not on their personal credit.  American Receivable is able to work around many of the criteria that are required in traditional business lending.
Our clients are always our first priority.  At American Receivable we pride ourselves on our exceptional customer service and dedicated and tenured account managers.  We can provide funding within as little as 24 hours in some cases.  The success of our clients is the success of American Receivable.