Invoice Factoring – the Who, What and When

One of the greatest challenges faced by small businesses owners is finding the right source of business capital. Unfortunately, many small businesses don't have a clear idea of where they are financially until they're faced with an immediate, and often unexpected need for cash. Some of the most common reasons small businesses find themselves in this situation include:
The opportunity to take vendor discounts
The need to purchase new equipment
The need to hire additional personnel
In past articles, we've discussed the benefits of invoice factoring compared to other funding methods including traditional bank loans and lines of credit. If invoice factoring makes sense for your particular situation, the next step is finding the right factoring company, and this is where the Who, What and When becomes important to improving and maintaining cash flow.
Who is the best invoice factoring company for my business?
When searching for the right invoice factoring company for your specific cash flow needs, be sure to consider the number of years the company has been in business. Invoice factoring companies with more than 10 years in the business generally offer a good program. Companies with 20 plus years are doing something right and it indicates they likely have a very solid reputation. Look for an invoice factoring company with an experienced, tenured management team and sales force. Get to know the people you will be working with because it DOES make a difference. Relationships are key – especially when dealing with what can be the stressful task of funding your business and keeping a positive cash flow. Look for reviews from clients and see what makes a particular invoice factoring company stand out.
What invoice factoring program is right for my business?
Most invoice factoring companies have similar programs but it's how they work with the business owner that really makes a difference. Many invoice factoring companies have industry expertise in special areas such as trucking, medical and staffing that could be beneficial for those business owners. When selecting a invoice factoring partner focus on companies familiar with what you do. American Receivable works with each of their clients individually to find the best funding options for their specific business and cash flow needs.
When should you work with a factoring company?
If inadequate cash flow is preventing you from meeting your obligations on time or keeping your business from growing, it may be time to consider invoice factoring. Most companies experience cash flow problems due to slow-paying customers from time to time, but if it has become the norm instead of the exception, invoice factoring could be the answer to your cash flow problems. Most businesses usually become eligible for more traditional financing after factoring their invoices for a while and can build up credit, length of time in business, and adequate cash flow to meet their needs. Invoice factoring can be a short or long-term solution for managing cash flow, however, some business owners like the ease of invoice factoring and stay with it longer term.
Invoice factoring is based on the customers of the business and their ability to pay, not the credit of the business or business owner. Selling your invoices as a solution for cash flow problems allows your business to grow without incurring debt.
Do you think this is a good option for your business?
Call American Receivable today!
A Customer Focused Small Business

Small business owners have many obstacles to overcome
Starting a business requires planning and one of the key elements is raising capital. There are many expenses to consider. Space, staffing, product, insurance, office expenses, taxes and others have to be paid regardless of the success of your business each month. Some small business owners have trouble obtaining traditional funding due to credit or other reasons.  Cash flow is necessary to stay in business and continue growth. There are many options to traditional funding, and invoice factoring has become one of the most common options for small business owners.
Capital is critical. Once you have funding for your business and know you can sustain it, you have to decide how you are going to run your business.  What is your business philosophy?
What is the #1 asset in your business?
Your customers, of course. They provide the revenue that keeps your business growing. Your customers are your guarantee for success.  A customer focused business makes them your priority and the success of your business depends greatly on just that.
Who doesn't like to feel familiar and appreciated? People in general like to be acknowledged and made to feel that they matter in life. The same goes for business. Getting to know your customers and taking an interest in their business will go along way in gaining confidence and trust. Personal attention makes everyone feel good. Giving each customer access when they need it will help keep them as customers long-term. Confidence and trust are essential to customer retention. They need to know that they can trust you and be confident that you are the best solution for their business. Getting people who know your business and have a high regard for you are the best referrals, and a customer-focused business will obtain this.
Building a customer-focused business is easy, focus on the customer first:
Know your customer and understand their business – talk to them about their needs and how you can provide support.
Be available. When customers call, they need answers immediately.  A customer-focused business will always have someone answering the phone and directing the customer in the right direction for problem-solving or other communication. Not being able to reach you when a need arises will cause them to look for other options and possibly move their business to a competitor.
Listen to their questions and concerns and let them know you are interested in finding a solution to their issue.
customer will call with a special request that may be against normal office protocol. Don't make it habit, but once in a while accommodate them. Let them know it is not normally something you could do, but that you want to help them and will make an exception this one time.  They will feel relieved and appreciate your willingness to find a solution for them.
The success of your business is dependent on the success of your customer's business, so make them your priority.
A customer-focused business is fairly simple. Get to know your customers and their business. Show them that you are interested in their success. Inevitably, your success depends on their success. Their success will result in referrals for your business as well.
The Fourth Of July Fun Facts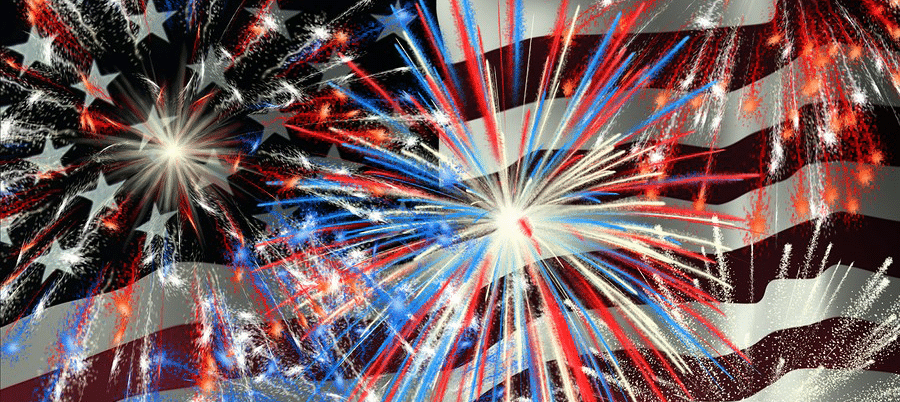 Thursday, July 4, 2019, marks the 243rd anniversary of the signing of the Declaration of Independence making America an independent nation.
1. Thomas Jefferson was the main author of The Declaration of Independence, however, the committee included Roger Sherman, Benjamin Franklin, John Adams and Robert Livingston.
2. The document is dated July 4th, however, Congress voted on July 2nd for independence from British rule. The final signatures were obtained on August 2, 1776,
3. The first newspaper printing was on July 6, 1776 by the Pennsylvania Evening Post.
4. Approximately 2.5 million people lived in America at the time. Today, over 345 million people live in America.
5. Calvin Coolidge was the only President born on July 4th.
6. Three Presidents died on July 4th. John Adams and Thomas Jefferson both died in 1826 on the 50th anniversary of the Declaration and James Monroe died July 4, 1831.
7. July 4th became a federal, unpaid holiday in 1870, and became a paid holiday in 1938.
8. The Liberty Bell rings 13 times every July 4th to honor the 13 original colonies, and. descendants of those who signed it tap the bell at 2 pm every July 4th.
9. George Washington treated the U.S. soldiers on July 4, 1778, by doubling their rum rations.
10. John Hancock, who was the President of Congress at the time, signed in the center of the document with the largest signature. His large signature brought about the phrase "put your John Hancock" when asked to sign your name.
11. The first fireworks celebration was n 1777 along with a parade and dinner. It is estimated Americans spend over one billion dollars on fireworks every July 4th.
12. Americans spend over 160M dollars on watermelon and consume over 150M hotdogs on July 4th.
Have a safe and happy Independence Day!
The History of the American Independence Day
The Fourth of July—otherwise called Independence Day or July fourth—has been a government occasion in the United States since 1941, yet the custom of Independence Day festivities returns to the eighteenth century and the American Revolution. On July second, 1776, the Continental Congress casted a ballot for autonomy, and after two days delegates from the 13 provinces received the Declaration of Independence, a notable archive drafted by Thomas Jefferson. From 1776 to the present day, July fourth has been praised as the introduction of American autonomy, with celebrations going from firecrackers, marches and shows to increasingly easygoing family social events and grills.
A History of Independence Day
At the point when the underlying fights in the Revolutionary War broke out in April 1775, couple of pilgrims wanted total freedom from Great Britain, and the individuals who did were viewed as radical.
By the center of the next year, nonetheless, a lot more pilgrims had come to support autonomy, on account of developing antagonistic vibe against Britain and the spread of progressive assumptions, for example, those communicated in the top of the line flyer "Good judgment," distributed by Thomas Paine in mid 1776.
On June 7, when the Continental Congress met at the Pennsylvania State House (later Independence Hall) in Philadelphia, the Virginia delegate Richard Henry Lee presented a movement requiring the settlements' autonomy.
Commercial
In the midst of warmed discussion, Congress delayed the decision on Lee's goals, yet designated a five-man council—including Thomas Jefferson of Virginia, John Adams of Massachusetts, Roger Sherman of Connecticut, Benjamin Franklin of Pennsylvania and Robert R. Livingston of New York—to draft a formal proclamation defending the break with Great Britain.
Did you know? John Adams accepted that July second was the right date on which to commend the introduction of American freedom, and would supposedly turn down solicitations to show up at July fourth occasions in dissent. Adams and Thomas Jefferson both kicked the bucket on July 4, 1826—the 50th commemoration of the appropriation of the Declaration of Independence.
On July second, the Continental Congress casted a ballot for Lee's goals for freedom in a close consistent vote (the New York assignment avoided, yet later casted a ballot positively). On that day, John Adams kept in touch with his better half Abigail that July 2 "will be commended, by succeeding Generations, as the incredible commemoration Festival" and that the festival ought to incorporate "Pageantry and Parade… Games, Sports, Guns, Bells, Bonfires and Illuminations from one End of this Continent to the next."
On July fourth, the Continental Congress officially received the Declaration of Independence, which had been composed to a great extent by Jefferson. Despite the fact that the decision in favor of genuine autonomy occurred on July second, from that point on the fourth turned into the day that was commended as the introduction of American freedom.
Mid Fourth of July Celebrations
In the pre-Revolutionary years, pioneers had held yearly festivals of the lord's birthday, which generally incorporated the ringing of chimes, blazes, parades and speechmaking. On the other hand, throughout the mid year of 1776 a few settlers commended the introduction of autonomy by holding mock memorial services for King George III, as a method for symbolizing the finish of the government's hang on America and the triumph of freedom.
Celebrations including shows, campfires, marches and the terminating of guns and black powder rifles normally went with the primary open readings of the Declaration of Independence, starting following its reception. Philadelphia held the principal yearly remembrance of autonomy on July 4, 1777, while Congress was as yet busy with the continuous war.
George Washington issued twofold apportions of rum to every one of his fighters to check the commemoration of freedom in 1778, and in 1781, a while before the key American triumph at Yorktown, Massachusetts turned into the primary state to make July fourth an official state occasion.
Peruse MORE: Two Presidents Died on the Same July 4: Coincidence or Something More?
After the Revolutionary War, Americans kept on remembering Independence Day consistently, in festivities that permitted the new country's developing political pioneers to address natives and make a sentiment of solidarity. By the most recent decade of the eighteenth century, the two noteworthy ideological groups—the Federalist Party and Democratic-Republicans—that had emerged started holding separate Fourth of July festivities in numerous huge urban areas.
Fourth of July Becomes a Federal Holiday
The custom of energetic festival turned out to be much progressively far reaching after the War of 1812, in which the United States again confronted Great Britain. In 1870, the U.S. Congress made July fourth a government occasion; in 1941, the arrangement was extended to allow a paid occasion to every single bureaucratic representative.
Throughout the years, the political significance of the occasion would decrease, yet Independence Day remained a significant national occasion and an image of energy.
Falling in mid-summer, the Fourth of July has since the late nineteenth century become a noteworthy focal point of relaxation exercises and a typical event for family parties, regularly including firecrackers and outside grills. The most well-known image of the occasion is the American banner, and a typical melodic backup is "The Star-Spangled Banner," the national song of praise of the United States.